The complete broadcast chain, covering presenters microphone through to transmitter antenna was the home ground for Gampell Sales Consultant. Able to offer turnkey solutions whilst following specific area of specialisation, Gampell Sales Consultant advised on any part of a broadcasters requirement, on air radio consoles, studio equipment, transmission signal processors, loudness control solutions, silence detect and monitoring systems, baseband signal distribution and routing, transmitters, facility remote control and transmission itself (FM, DVB-T, DVB-T2, ISDB-T)

In 2012 Gampell Sales Consultant entered in to partnerships with Sonifex and Broadcom Ltd, bringing studio equipment and contribution and distribution network solutions to the market. In January 2013 they were joined by BW Broadcast adding FM Transmitters, RDS encoder and Audio Processors to the portfolio of technologies represented. Also in 2013, Gampell Sales Consultant added ONEtastic to the range of products, bringing DVB-T/DVB-T2 and ISDB-T transmitters to market.

2014 saw Gampell Sales Consultant bring on two more brands, loudspeaker manufacturer Sonodyne, and network specialists ARG. In each case Gampell was responsible for Business Development and Sales Management in the Asia Pacific Region.
Studios: With GSC's supplier partner Sonifex and others, Gampell could source all a broadcasters requirements for on air production, from microphone, playout system, or processor (from BW Broadcast) through to STL (either an RF link or audio over IP codec). Sonifex's "Red" range is world wide acknowledged to offer traditional British values of excellence in audio and video engineering with superb value for money. This is further enhanced by the "blue" Reference Monitoring range, S2 Mixing consoles, telephone hybrids, and commercial audio products such as streamers along with a wide range of peripherals and solution products.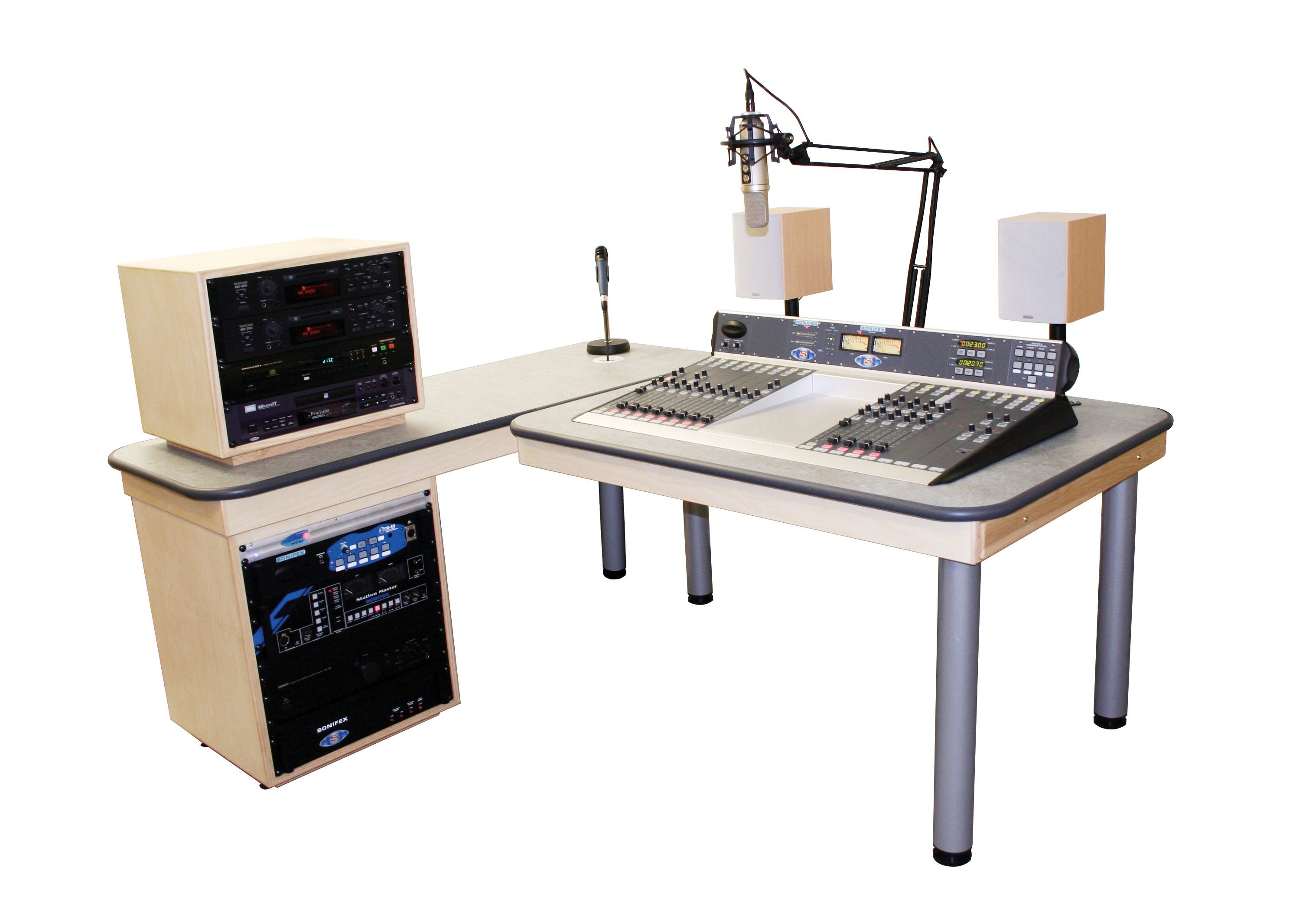 Loudspeakers are always an interesting topic, customers often choosing consumer models or commercial audio install speakers, Gampell's view was (and remains) that with compressed audio (such as MP3, AAC etc) in such wide use, and with risks to signal integrity from the effect of concatenation, an accurate speaker should be used capable of revealing any issues in the signal path and for this reason Gampell recently entered in an agreement with Sonodyne, thus bringing that brand to a wider market.
(above is the SRP500, the standout product from the new range)
Transmission sites: Gampell was able to advise on all aspect of a broadcasters requirements for the transmission site. BW Broadcasters bring a very exciting range of FM transmitters (v2 series) to the market, these self contained transmitters (either 1U or 2U, up to 1500w). In 2015 the range will be expanded to higher power levels and the new "Encore" platform will start shipping

Above is the TX600v2, which features dual redundant slide in PSUs, built in Audio Processing, IP telemetry, highly efficient cooling design and GoldClamp solder free process for MOSFET device replacement
Looking for television transmitters, whether for dualcast (analogue and digital) or just for digital, DVB-T/DVB-T2 or ISDB-T, ONEtastic were first in the market with broadband high efficiency designs, furthermore the ONEtastic solutions are complete from 15w to 3000w including 1+1 and N+1 solutions.

The ONEtastic ONEdriver above is a unique proposition, offering (depending on options fitted), satellite receiver, IP receiver, ASI inputs, GPS synchronisation, exciter and 130watt HPA (with adaptive pre-correction) in a 1U package.

ONETastic, who have particular experience in digital terrestrial and dual cast analogue/digital television. With solutions low power solutions for gap filling, repeating, transponding and high density installations of synchronised low power transmitters, solutions are there for territories rolling out DVB-T/T2 or upgrading existing DVB-T to DVB-T2 and for the preparation for analogue switch off. The ONEtastic range is complete encompassing air cooled solutions up to 3000w and water cooled solutions beyond that.
Links: Where an IP link or leased line is not available, RF links can be highly advantageous, and applying the philosophy of the V2 transmitter at TX end and the award winning RX1 at receiver end, the BW Broadcast STL solution makes a strong case. Of course in many example, "link" means "codec" and one of Gampell Sales Consultant's first clients; Broadcom Ltd, brought an exciting new innovation to the market at IBC in 2013. The C211MP codec introduced a new concept to the market, as "The codec that keeps your link alive" This unique concept provides a battery back not only for the codec but the ADSL modems for both main and back up links and even a back up codec can be powered from a single battery back up. With the link protected any problem at site can be remotely analysed be it terribly minor or frighteningly critical, ideally a site telemetry system will be the key here, but such devices can only work when the link is "up".
As well as transmitters, repeaters and gap fillers, Gampell was able advise on solutions for Single Frequency Networks (SFN) Signal processing, RDS encoding and redundancy solutions for the transmitter site, Audio and video routing and distribution amplification can all be specified and sourced from the best manufacturers possible.
Signal Distribution: Traditional distribution over TDM circuits such as E1, ISDN, and Leased Lines are giving way to IP based solutions, however these are full of challenges and potential pitfalls. Gampell has experience of four generations of audio over IP solutions and can advise on how best to counter issues such as latency, jitter, packet loss, and circuit redundancy. For DVB-T/T2 transport, ASI over IP with an integration of IP receiver in to the transmitter chassis is an exciting development using microwave or IP over satellite for ASI distribution and transmitter from Gampell Sales Consultant supplier partner ONEtastic.

In January 2014 Gampell Sales Consultant entered in to an association with ARG, specialists in DVB-T/DVB-T2 transport stream delivery over a variety of networks.


With such solutions from some of the world 's leading suppliers and peripherals and management systems to get the best out of your investment, expertly specified, Gampell had arguably experience in this field second to none.

Other areas of speciality included:
Of air spectrum monitoring, and signal strength metering: Having supplied many systems including those in New Zealand, India and Malaysia, Gampell can advise on a solution for AM, FM, DAB, DVBT/S/H, CMMB, DMB etc. Expertise covers three areas:

Hand held solutions for the installer to check off air signal integrity anywhere in the coverage area,



GPS based "Campaign" measurement systems for drive around coverage analysis.

and finally
24/7 monitoring solutions with SMS or Email based alarm notifications in event of broadcast anomalies.
Systems can be networked to central Broadcast Management servers for country wide (or even wider) reporting, analysis and real-time complete network overviews.

Facility monitoring solutions including SNMP and GPIO telemetry. Also environmental monitoring. Solutions such as temperature, humidity, and site security, solutions can be advised, supplied and commissioned.




SLA enforcement: Bringing together the remote facility management, off air monitoring, and network management tools, Gampell can provide solutions for broadcasters seeking to enforce their SLAs with their service providers. Often a touchy subject, this is indeed particularly relevant in situations where the broadcaster does not own operate his own distribution network and transmitters, and/or has no access to transmission sites, bringing together the metrics gathered by a monitoring solution and cross referencing these to the agreed terms of an SLA, tools can be provided that benefit both broadcaster and service provider